The cost of the netwrap to make a round bale is a very small percentage of the value of the hay, yet one of the main causes of collapsing bales is the failure to use enough netwrap.
Bale size, crop type, bale density and netwrap strength influence the correct number of wraps but some suppliers offer just one strength.
Venus Packaging say their Totalcover brand in 11, 12, 13, and 14gm per linear metre by 1.23 metre width enables farmers and contractors to choose the optimum combination of strength and wraps for any crop. For example the tensile strength of 13gm is 270kgf* and 14gm is 290kgf*. (*Approx.)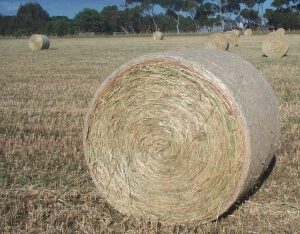 Netwrapped bales at Maffra Vic. Baled with a New Holland BR750 using 1.23m wide 12gm Totalcover.
The biggest factors that determine the wraps required are crop type and bale density. Crops like sorghum, triticale and pea that easily absorb moisture need more wraps, as do springy cereal crops. Heavy or abrasive crops such as rice straw and sugar cane need extra wraps and a heavier netwrap like 13 or 14gm.
Other considerations include how quickly the bales will be fed out: will they be stored in a shed, left in the paddock or sold? One extra wrap could greatly reduce the risk of bales splitting or breaking during loading, handling and transportation.
Farmers can prevent most problems by talking with their contractor about the best choice of netwrap, the correct weight for the job and how many wraps to apply.
Contractors are judged by the bales left behind in the paddock. The cost of more wraps or a heavier netwrap is negligible compared to the value of satisfied customers returning year after year.
For more information speak to Venus Packaging twine and netwrap specialist, Phil Pomeroy on 0427 684792 or (03) 9428 1652. Download Totalcover Netwrap product guides.
UPDATE JANUARY 2015
Since this article was written Totalcover tensile strengths have increased progressively. They are now: 11gm 270kgf, 12gm 290kgf, 13gm 310kgf and 14gm 330kgf. 
Category:
Articles & Handy Tips